The Santa Project with MyTalk 107.1
It's the most wonderful time of the year! Help spread some holiday joy to families with sick kids with MyTalk 107.1's Santa Project benefitting Ronald McDonald House, Upper Midwest. Thank you to our generous sponsors for hosting these fun and festive events!
SCHEDULE
Saturday, November 26th 11am to 1pm / Shop Girls at the Galleria
Tuesday, November 29th 3–6pm / Lori & Julia at Chanhassen Dinner Theatres
Wednesday, November 30th 12–3pm VIRTUAL / Breast Center of Maple Grove & Imaging Center of Plymouth
Saturday, December 3rd 9–11am / The Weekly Dish at Surdyk's
Tuesday, December 6th 3–6pm / Lori & Julia at Hamernick's
Wednesday, December 7th 9am–12pm / Donna & Steve at Twin Cities Closet Company
Saturday, December 10th 11am–1pm / Shop Girls at Children's Theatre Company
Thursday, December 15th 3–6pm / Lori & Julia at Creative Hair Design
Friday, December 16th 9am–12pm / Donna and Steve at Southern Lights

Donate a gift from the wish list below, and we'll make sure it gets delivered to the kids and families at RMHC – UM in time for Christmas. Drop off your unwrapped gifts at one (or all!) of our eight live broadcasts and meet your favorite radio personalities. Or tune into our virtual broadcast and make a financial donation – every dollar and every item makes a direct impact on families!
Wish List:
Items/Gift Cards for Teens
MN Pro Sports - hats or apparel
MagnaTiles sets
LEGO sets
Fold-up Wagons
Minnesota-themed gifts
Action figures
Nerf toys
Weighted blankets
Art sets
Bath and Body sets
VTech Toys
Hot wheels
Board Games
Electronics
Kitchen
Canned vegetables
Jerky
Individually packaged meals (Easy Mac, ramen cups, microwavable soup, etc.)
Granola
Trail Mix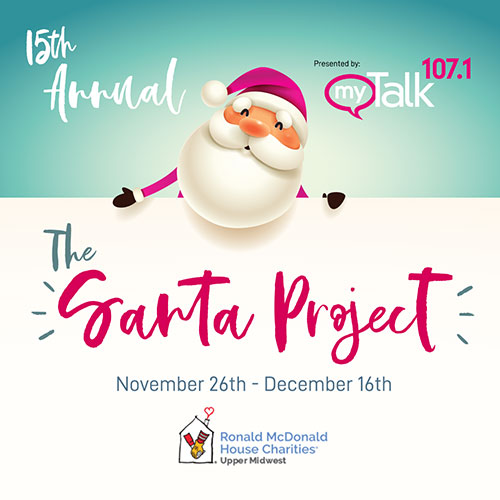 RMHC–UM's mission is to provide a home away from home and a caring community of support to families with seriously ill and injured children. Every year, we support thousands of families from across the state and around the region by providing complimentary lodging, meals and family-focused services. By alleviating many families' everyday needs, we allow them to focus on what's most important – the health and well-being of their hospitalized child as well as their family unit as a whole.